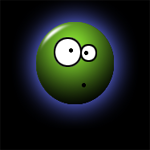 I just want to take this opportunity to feature one of my great friends and a very talented artist. She has done so much for the fractal community and still manages to amaze me with her art and generosity!! She has came a long ways from our very early days back in the "shack" where we would spend countless hours staring at an unfamiliar screen with all these "triangles" on it.

Since then she has pumped out thousands of truly amazing works of art by just simply "moving the thingy" as she so calls it. I truly knew she had figured out the program known as Apophysis when my inbox ripped at the seams trying to contain her hundreds and eventually thousands of totally amazing pieces!! Treat yourself to an awesome gallery, you may want to leave a trail of breadcrumbs as it is rather easy to get lost in there!!!

When you get to her gallery you will see why I say "fractaling at the speed of Light"......the artist and truly gifted person I speak of is....of course `
SuicideBySafetyPin
. Grab a comfy chair, a tasty snack, and your mouse.....and enjoy:
and she will hate me for this but....from back in the day>>>>
:thumb80646238:

Keep up the great work Light!!!

Find me and my friends in the
#Aposhack
Thanks *
karma4ya
for the help on the journal